Checking the oil level
Check the engine oil level at each fuel stop.
1. Park the vehicle on a level surface and stop the engine. If you check the oil level just after stopping the engine, wait a few minutes for the oil to drain back into the oil pan before checking the level.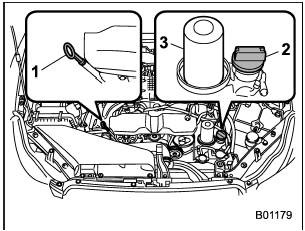 1) Oil level gauge
2) Oil filler cap
3) Oil filter
2. Pull out the level gauge, wipe it clean, and insert it again.
3. Be sure the level gauge is correctly inserted until it stops.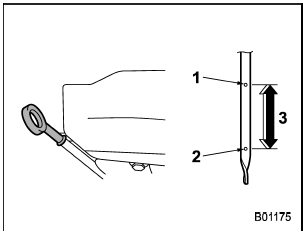 1) Full level
2) Low level
3) Approximately 1.1 US qt (1.0 liter, 0.9 Imp qt) from low level to full level
4. Pull out the oil level gauge again.
5. Check the oil levels on both sides of the level gauge. The engine oil level must be judged by the lowest of the two levels.
If the oil level is below the low level mark, add oil so that the full level is reached.
CAUTION
● Be careful not to touch the engine oil filter when removing the oil filler cap. Doing so may result in a burn, a pinched finger, or may cause some other injury.
● Use only engine oil with the recommended grade and viscosity.
● Be careful not to spill engine oil when adding it. If oil touches the exhaust pipe, it may cause a bad smell, smoke, and/or a fire. If engine oil gets on the exhaust pipe, be sure to wipe it off.
● If the level gauge is not pulled out easily, twist the level gauge right and left, then pull it out. Otherwise, you may be injured accidentally straining yourself.
To add engine oil, remove the engine oil filler cap and slowly pour engine oil through the filler neck. After pouring oil into the engine, you must use the level gauge to confirm that the oil level is correct.
NOTE
To prevent overfilling the engine oil, do not add any additional oil above the upper level when the engine is cold.