Engine hood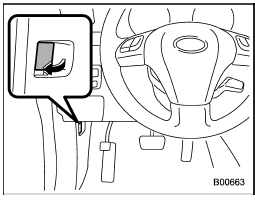 To open the hood:
1. If the wiper blades are lifted off the windshield, return them to their original positions.
2. Pull the hood release knob under the instrument panel.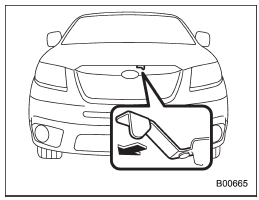 3. Release the secondary hood release located under the front grille by moving the lever toward the left.
4. Lift up the hood.
To close the hood:
1. Lower the hood to a point approximately 20 in (50 cm) from the closed position and then give the hood a strong push down to make it drop.
2. After closing the hood, be sure the hood is securely locked.
If this does not close the hood, release it from a slightly higher position. Do not push the hood forcibly to close it. It could deform the metal.
WARNING
Always check that the hood is properly locked before you start driving. If it is not, it might fly open while the vehicle is moving and block your view, which may cause an accident and serious bodily injury.
CAUTION
When closing the hood, be careful not to pinch your or other person's hands or anything else in the hood.