When the rear gate cannot be closed
CAUTION
● AOn areas which are not flat, such as hills, do not conduct any of the following actions. The rear gate may close suddenly and hit someone's head, face or catch fingers and body parts in it, resulting in injury.
● Even while conducting the following actions on a flat surface, be careful not to be injured by getting caught in or hit by the rear gate.
● After closing the rear gate by the following methods, we recommend that you have the vehicle checked at a SUBARU dealer.
If the rear gate cannot be closed due to a flat battery, etc., while the rear gate is stopped midway, it can be closed by the following methods.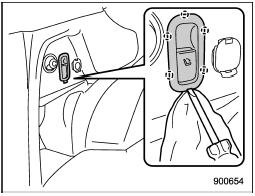 1. Release the fitting on the left side rear seat release latch.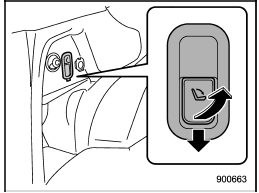 2. After pushing the rear seat release latch down once, remove the latch.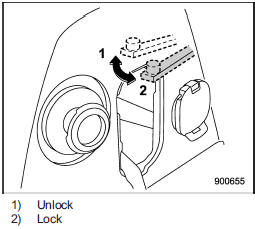 3. Using a flat-head screw driver, push the lever inwards for temporary deactivation of the rear gate.