Headlights (models without HID headlights)
CAUTION
Halogen headlight bulbs become very hot while in use. If you touch the bulb surface with bare hands or greasy gloves, fingerprints or grease on the bulb surface will develop into hot spots, causing the bulb to break. If there are finger prints or grease on the bulb surface, wipe them away with a soft cloth moistened with alcohol.
NOTE
● A If headlight aiming is required, consult your SUBARU dealer for proper adjustment of the headlight aim.
● It may be difficult to replace the bulbs. Have the bulbs replaced by your SUBARU dealer if necessary.
Perform the following steps to replace the bulbs.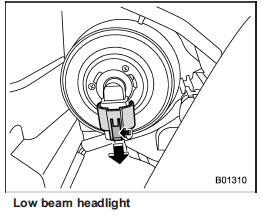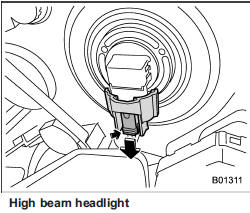 1. Disconnect the electrical connector from the bulb.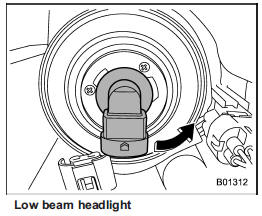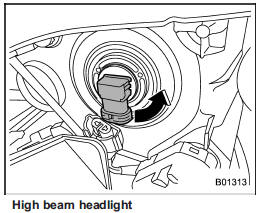 2. Remove the bulb from the headlight assembly by turning it counterclockwise.
3. Replace the bulb with new one. At this time, use care not to touch the bulb surface.
4. To install the bulb to the headlight assembly, turn it clockwise until it clicks.
5. Reconnect the electrical connector.