How to play back
1. Connect a USB storage device/iPod®.
2. Press the

button. Each time you
briefly press the button, the mode changes in the following sequence.
Type A audio: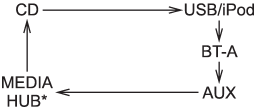 *: Only when a Media Hub is connected.
Type B audio:

When the USB/iPod® mode is selected, the player will start playback of the USB storage device/iPod®.
NOTE
● Depending on the number of files stored on the iPod® and the firmware version, the iPod® may not activate smoothly after operation or not work properly.
● Do not disconnect the connector from the iPod® during iPod® operation.