Under-floor storage compartment (if equipped)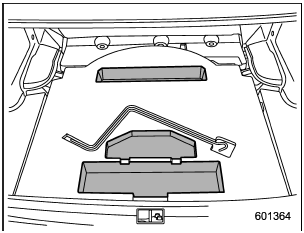 4-door models
For 4-door models, the storage compartments are located under the floor of the trunk. They can be used to store small items.
NOTE
● The shape of the storage compartment may be different depending on the model.
● When storing a flat tire, put the storage tray in the trunk.
CAUTION
● Always keep the lids closed while driving to reduce the risk of injury in the event of a sudden stop or an accident.
● Do not store spray cans, containers with flammable or corrosive liquids or any other dangerous items in the storage compartment.