If you park your vehicle in case of an emergency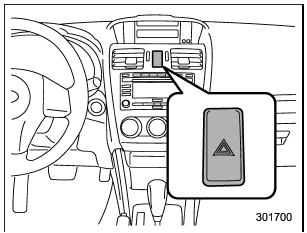 The hazard warning flasher should be used in day or night to warn other drivers when you have to park your vehicle under emergency conditions.
Avoid stopping on the road. It is best to safely pull off the road if a problem occurs.
The hazard warning flasher can be activated regardless of the ignition switch position.
Turn on the hazard warning by pushing the hazard warning flasher switch. Turn it off by pushing the switch again.
NOTE
When the hazard warning flasher is on, the turn signals do not work.